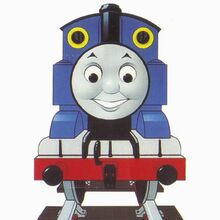 Brandon Polley is a Californian YouTuber with high-functioning autism that helps Pauls Vids with his videos and is also his loyal friend and youngest assistant.
At the age of thirteen, and before he met or knew Paul, he first joined YouTube on September 14, 2012.
He disliked "Shed 17" when he first watched it in 2015 and especially teared up at the ending where Thomas' skeleton tore out of his boiler; but when he kept watching the video repeatedly, he began enjoying it more.
He was then quick to notice most people online who despise "Shed 17" give a number of rude and nasty comments to Paul, complaining he has "ruined" their childhood, so the idea of having him narrate an original story from "The Railway Series" occurred to Brandon, believing it will help Paul be appreciated more, and it worked flawlessly after uploading his first narration of "Thomas And The Guard". He considered Paul his new best friend ever since.
Thanks to the comments on YouTube saying Paul is a great narrator, Brandon was encouraged to have Paul continue narrating other "Railway Series" stories once in a while, for he always figured Paul is busy with his outside life.
Brandon especially wished to help Paul out with his future latest video "Project G-1", which he managed to accomplish, as he was credited as a creative consultant; he first attempted by showing him an image of a Caledonian Railway "McIntosh 812" 0-6-0 steam engine, Donald and Douglas' basis.
Later on, when Halloween was coming soon in 2017, Paul asked Brandon to do some voice work in "Roly's Halloween Special", which he gladly accepted and was thanked as a "lifesaver". He was especially thrilled when he was given a chance to play as Thomas (his favorite character) in "Roly's Christmas Special" and again in "Roly's Morning" (also writing the episode's script with Paul).
Voices
External links