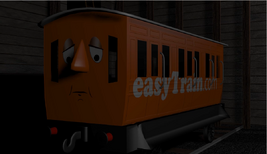 Roly Gets Privatised is the fourth episode of The Adventures Of Roly The Coach.
Characters
Transcript
Roly's party didn't win the election and Roly's dream of a renationalise railway have been dashed. Well look on the bright side Roly, maybe you'll be sold to a reputable railway franch-
(It is suddenly revealed "easyTrain.com" has been painted on Roly's side)
Oh.
(Roly looks down, then looks at the audience)
                                          The End

Video
Community content is available under
CC-BY-SA
unless otherwise noted.