Roly's Bank Holiday is the third episode of The Adventures Of Roly The Coach.
Characters
Transcript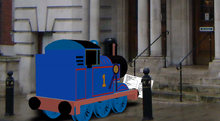 Roly tried to register to vote, but he's just been told that legally he isn't human and therefore can't vote. Oh well Roly, hopefully your dreams of a renationalise railway will- hang on...
(Thomas is then seen with an official poll card and a UKIP rosette on his tank, heading into the polling station)
What the fu-
                                         The End

Video
Trivia
The link to the Shed 17 Wikia is shown on the Sodor Town Council letter.