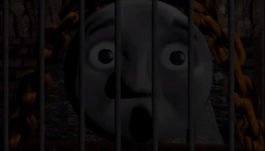 Smudger was a Bio-Fused locomotive-turned-steam generator. He was voiced by Vinnie Smith.
Biography
Nothing is known about Smudger's past before he was Bio-Fused into a 0-4-0 narrow gauge engine.
He worked for the Mid-Sodor railway in the eighties and would often have accidents due to his wheel alignment.
Due to the mining company not having enough money to repair Smudger, they turned him into a steam generator.
Eventually, the Steamies found him and "tickled" him, as confirmed by Paul on YouTube. This scene was cut from the reupload due to rape controversy.
Smudger is eventually found by HiT Logistics. However, when Dr. Owen Routh and a containment team attempts to use Cranky to lift him out of the shed, they find that Smudger's body has merged with the shed itself and part of the ground underneath, leaving the engine howling in pain when the HiT Logistics employees attempt to remove him. Because of this, it is likely he either died from exposure or was killed by the containment team.
Appearances 
Trivia
Gallery
Community content is available under
CC-BY-SA
unless otherwise noted.