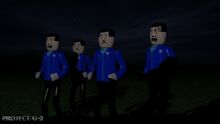 Steamies are unruly railway engine enthusiasts who make an appearance in Thomas The Tank Engine: Project G-1.
Bio
Steamies, unlike other railway enthusiasts, are mischievous pranksters.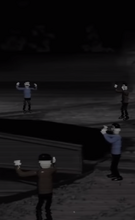 One of their pranks involves playing "Spin the Engine" with James by spinning him fast on the turntable, causing him to vomit as a result.
Later, in a now deleted scene, they discover Smudger in his shed. One of the Steamies goes inside and proceeds to "tickle" him.
Trivia
Keith Hartley reveals to have been part of the Steamies at one point.
There was a deleted scene in Project G-1 involving the Steamies discovering Smudger and "tickling" him. This scene resulted in Project G-1 being removed, and was later left out of the reuploaded version.
The scene with James also had one of the steamies taking him from behind, which was cut short in the reuploaded version.
"Steamies" was a term used to describe steam engine characters in the later seasons of Thomas the Tank Engine & Friends television series.
Community content is available under
CC-BY-SA
unless otherwise noted.