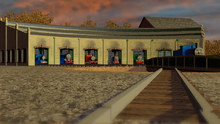 Tidmouth Sheds is a place where engines get some rest after a hard day's work.
Location
Tidmouth Sheds are large Sheds on the Duck's branch line.
7 Engines can be installed inside.
Residents
Appearances
Shed 17 Universe
Trivia
Pauls Vids' Twitter has an image of a face on the wall of Thomas Shed.
Gallery